Social responsibility and corporate social responsibility aren't just buzzwords, but competitive assets in business. Responsible companies are more attractive employers. Customers also value measurable, concrete responsibility actions. But how can you develop social responsibility in your company? Read the tips!
Social responsibility gives a competitive advantage and engages employees
The Finnish labour market is in transition. According to surveys (linked article is in Finnish), around 40% of the working population is considering a change of job or sector. The software industry is also plagued by the revolving door effect, where the best talents don't stay in the same job for long and retention is difficult.
"There's a shortage of workers in the software sector. As digital services grow, there's an increasing need for IT specialists," says Sirpa Pajula, Sustainability Development Manager at software company Eduix. "Social responsibility in the workplace and concrete acts of responsibility are ways to develop the well-being of the work community and to engage employees," she continues.
With a team of nearly 50 software professionals, Eduix promotes social responsibility by offering its employees the opportunity to volunteer during their working hours.
"As a small software house, Eduix cannot compete with large companies on employee benefits and doesn't see it as a sustainable solution for employee engagement and motivation," says Pajula. "Sustainability has been a value and culture at Eduix since the company was founded in 1996. Successful recruitment brings together the values and culture of the company with the values that the employee holds dear and the opportunity to do meaningful work. This is what happened to me," says Pajula, who started at Eduix 6 months ago.
Get your stakeholders involved to promote social responsibility
Social responsibility encompasses internal and external activities that affect different groups of people and communities. These stakeholders include, but aren't limited to, the company's own staff, customers, local residents, suppliers and NGOs. If your company is interested in promoting social responsibility, you can start by getting your stakeholders involved. Ask and listen to their wishes and objectives and write them down. This will give you concrete and measurable milestones for your future responsibility actions.
"Social responsibility encompasses all human activities of a company and its employees – from the closest colleague to the most distant partner. At Eduix, the way we act responsibly in all our processes, from marketing and sales to software production and customer service, is defined in the Code of Eduix handbook. The impact of our responsible approach is visible to our employees in our own operations, to our customers in our products and services, and to users in our lifelong learning solutions." says Pajula.
The Confederation of Finnish Industries highlights the interactions with stakeholders as a key tool for social responsibility. It aims to:
find out what expectations different communities have of a company's activities
provide stakeholders with the right information on the impact of business activities and responsible sustainability actions
benefit from the stakeholders' expertise
help find new solutions on how to better reconcile the perspectives and interests of different stakeholders.
From sponsorship and campaigning to practical responsibility actions
Social responsibility has traditionally been managed by companies through campaigning, either by organising or participating in responsibility campaigns. In addition, many companies sponsor associations and sports clubs in their local area. Sponsorship brings momentary relief to the daily lives of communities, but the impact of such cooperation is difficult to measure and often remains distant. There's therefore a clear trend toward cooperation between businesses and associations, for example in the form of practical voluntary work and longer-term cooperation. Transparency is at the heart of everything, for both employees and customers.
"When we can measure, we can improve," says Pajula. "I challenge software companies to expand their responsibility impact: how do our products, services, skills and practices make a difference? More and more software companies already have responsibility in their strategy, but how can we make it concrete and measurable, for example in the application development of software houses?" asks Pajula.
Social responsibility benefits the company, its employees and stakeholders such as customers and owners. Responsibility gives a competitive advantage to companies that demonstrate that responsibility is something they put into action, not just something they campaign for.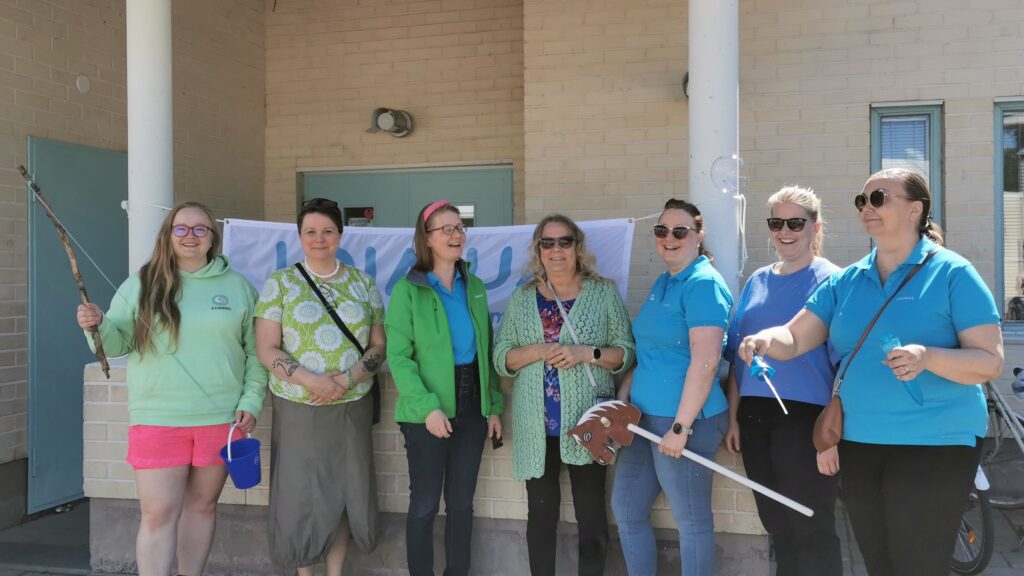 How to start the conversation on promoting social responsibility in your company
If you want to promote social responsibility in your business, start by listening to your stakeholders,
think about how you want to contribute to social well-being. What can you do yourself? What could your company do?
Start with your local area. How can you contribute to the well-being of the work community? Does your company already sponsor associations and organisations? Ask your work community if they'd be interested in doing something concrete to help during the working day.
Measure and show the concreteness. Make measurable campaigns and actions. Track the impact and make it visible to your work community, customers and other stakeholders. Remember, doing good brings more good!
If you're looking for a concrete tool to put social responsibility into practice, Commu could be the right solution for you! Commu is a platform where individuals, associations and companies help each other. For businesses, we offer a corporate volunteering platform that makes it easy and measurable to bring volunteering into the workplace.