This is how Commu makes your life easier
Join today!
Join to our insider group and you will never miss a post!
Blog of Commu
What is commu?
Join our journey towards a more communal world and build a new kind of helping platform with us. It's easy...
Read more
Who are the people behind Commu?
Karoliina Kauhanen
Karoliina Kauhanen is a 26 year old marketing specialist, event producer and support person for children and young adults. Karoliina wanted to be part of the Commu team after seeing long queues for the support persons and how difficult it is to find help from all the different kind of Facebook groups. Karoliina wants to lower the threshold for helping others and making asking for the help less shameful. Her job in Commu is marketing, social media, developing and upkeeping openness by telling every week how Commu is doing, what has worked and what has failed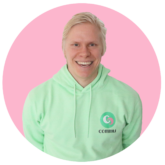 Sami Ekmark
Sami Ekmark is 26 year old nurse living in Tampere and working in mental health sector. He has seen the potential of our app in his work. Sami is identical triplet and has 20 years background in competitive team sport. Both through his work and history, he has witnessed how important it's to create a correct operating environment that people want to embrace. Sami has noticed to that he's an excellent networker and easily get along with different kind of people types. As a person, he's easily approachable inspirer who easily gets others involved.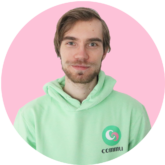 Ronnie Nygren
Ronnie Nygren is a 26 year old IT entrepreneur living in Tampere. He has been in IT-industry for 5 years, working as team lead and CTO. Starting from the bottom, he has made he's way forward by simply proving what he is worth. Ronnie has seen the possibilities of technology, importance of human in executing function and challenges and success stories of entrepreneurial life. Now it's time to use this learned knowledge to something meaningful. He strongly believes that through correct use of technology the world can be made a better place.
Interested to try the app? Maybe you want to join our team? Or perhaps you just want to drop us a word. What ever it is, feel free to send us a message!