How to get your association to Commu

Download Commu from your app store and create an account by using your association's email address. Then contact us!

Get an association account
We will open your association account in Commu, where you can look for volunteers.

Your association is now on Commu, great! It's time to make volunteering visible to people in your local area. Create your own notices asking for help for your association.
How does a Commu association account work?
Commu's association account serves the busy everyday life of associations and sports clubs by providing a tool to reach effectively new volunteers from the local area and to inform them about activities.
You can create multiple usernames for the same organisational account. This allows different people in the organisation to create notices and have conversations with Commu users.
You can create notices on the map, for example located at your association's office, to inform about activities and events, as well as the need for help.

The built-in chat feature of the Commu app enables low-threshold contact and communication all gathered in one convenient place.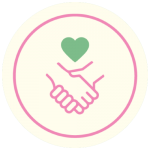 Our team is waiting for your message. Contact us to arrange a 15-minute demo meeting!